Tanoto Foundation Supports Development of Indonesia Future Leaders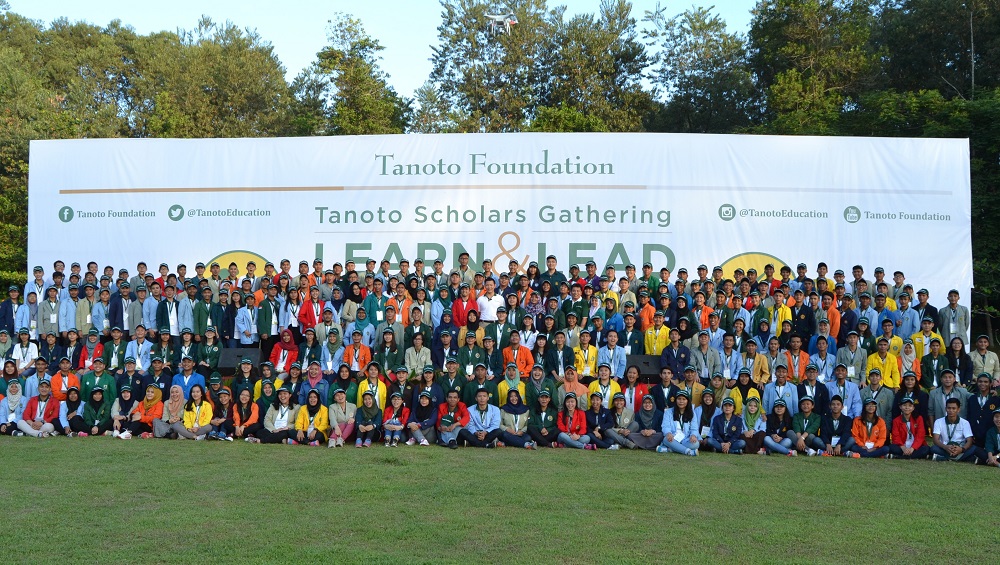 For immediate release
Riau, 16 August 2016 – Research, Technology, and Higher Education Ministry Indonesia 2015 data stated that the Gross Enrollment Rate for Indonesia's higher education is 34%. This number also means that 66% or approximately 15 million of young Indonesians within the age group of 19-23 year old discontinue their education at senior secondary level. The improvement of access to higher education is one of the country's national priorities. As such, Tanoto Foundation provides scholarships for the young people of Indonesia, particularly those who have high academic achievement and leadership potential so they can continue their education to the higher level.
Tanoto Foundation was established by Sukanto Tanoto and Tinah Bingei Tanoto to support poverty alleviation in Indonesia through education, empowerment, and enhancement of quality of lives. For the education sector, in addition to providing scholarships for more than 6,400 students in Indonesia, Tanoto Foundation also carries out Pelita Pendidikan program to improve the quality of education in its partner schools. Currently, the beneficiaries of this program include more than 340 elementary and junior secondary schools in Sumatera Utara, Riau, and Jamb.
To date, recipients of Tanoto Foundation scholarships come from 35 universities in Indonesia. The scholarship selection process is rigorous and competitive. The ones selected are those who have high academic achievement, have the skills and characters to become Indonesia's future leaders, and are in financial need to be able to continue their education. In addition to obtaining tuition fee and allowance, Tanoto Foundation scholarship recipients also get counseling and soft skills development training. They also take part in yearly activities such as Tanoto Scholars Gathering.
For this year, Tanoto Scholars Gathering 2016 was held from August 16 to 20 in Pangkalan Kerinci, Riau. With a total participant of 300 Tanoto Foundation scholarship recipients or Tanoto Scholars from 32 universities, this Gathering is the biggest one so far. In the four day event, they took part in activities such as inspirational talks from national leaders, outbound games to learn about team work and improve their leadership skills, and learn directly about sustainability from Tanoto Foundation's corporate partners.
In his remarks, Anderson Tanoto, Trustee from Tanoto Foundation said that, "In supporting efforts to alleviate poverty, we believe that Indonesia needs to be developed sustainably. In that respect, Indonesia continues to need innovation and leaders who are strong, have high quality, and care for their surroundings. The recipients of Tanoto Foundation scholarships are chosen not only because they have high academic achievement, but also because they have the potential to be the leaders of Indonesia in the future. Through events such as Tanoto Scholars Gathering, they are given the opportunity to strengthen their spirit of learning and leading, broadening their awareness about sustainable development, as well as developing their network and improving their soft skills."
"We believe that Tanoto Scholars Gathering and other Tanoto Foundation activities will help to produce Indonesia leaders who are not only smart, but also competent and excellent in what they do. These people will also actively take part in poverty alleviation in Indonesia," said Anderson concluding his statement.
***
For more information, please contact:
Lestari Boediono, Head of Corporate Communications
Phone: +62 21 392 3189, Fax: +62 21 392 3324
Email: lestari_boediono@www.tanotofoundation.org