Tanoto Foundation and Asian Agri Support Healthy Communities at Riau Rural Areas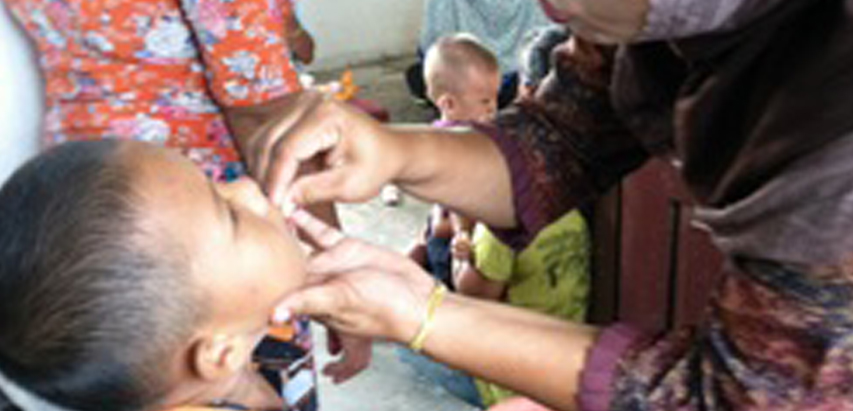 Providing additional vitamins for children at local health clinic.
---
Written by Hendrik, Tanoto Foundation Riau
The low quality of available human resource is one of the causes of the high number of employment. To develop high quality human resource, adults in communities need to be healthy and able to work effectively. Subsequently, easy access to health facilities as well as health insurance will help community members to maintain their health level and further support their competitiveness in the work force.
The responsibility to improve the quality of community members' health does not only fall on the shoulder of the government, but must be shared by the private sector. To implement this notion, Asian Agri works together with Tanoto Foundation to improve access to health care facilities in remote areas in Riau.
Located in Indragiri Hulu District of Riau, three local health clinics were built in Gumanti Village, Semelinang Village, and Peranap Village. Head of Indragiri Hulu District, Yopi Arianto, expressed his appreciation for the support of Asian Agri and Tanoto Foundation during the clinic's ground breaking ceremony recently.
"Thank you, Asian Agri and Tanoto Foundation, for their support. The communities can now take full advantage of these clinics and, hopefully, improve their overall health condition. We also hope that in the future the private sector will continue to work with the government to develop this area," said Yopi Arianto.
In addition to building the health clinics, Asian Agri and Tanoto Foundation work together to provide free medical checks, carry out healthy living campaigns, and donate two ambulance for the communities.
As part of Tanoto Foundation's effort to alleviate poverty, the Foundation works with its corporate partners to enhance the communities' quality of lives. Tanoto Foundation activities include provision of clean water and sanitation facilities for more than 2,200 people, healthcare facilities for 1,755 people, and assistance for natural disaster victims for more than 11,000 members of the community.
Complementing the effort through enhancement of quality of lives, Tanoto Foundation also supports various efforts to alleviate poverty through education and empowerment.