SDN 12/I Terusan Jambi, Model for School with Health Initiatives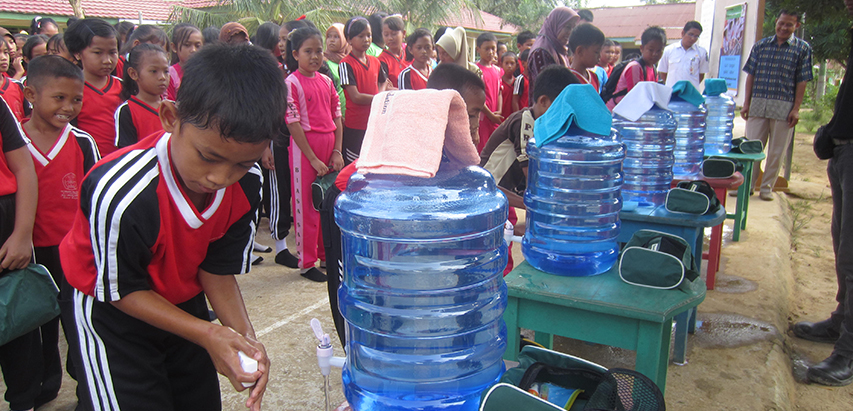 Training students to wash hands with soap regularly.
---
Written by Yudha Priana, Tanoto Foundation Jambi
SDN 12/I Terusan is located at Batang Hari Distict, Jambi. The Village of Terusan could be found near Batang Hari River, not too far from the area of Tanoto Foundation's corporate partner, PT. Inti Indosawit Subur. Since its establishment in 1980, the school has been the main choice for the area's parents as a school to send their children to.
As a part of Tanoto Foundation's effort to improve the quality of education for schools in rural areas, this school has been taking part in different trainings of the Foundation. For example, teachers have been trained to improve their class room delivery in contextual teaching and learning. Also, Tanoto Foundation has provided support for the school's facilities. Finally, teachers and students of SDN 12/I Terusan have been encouraged to have healthy living habits.
The school takes part in Tanoto Foundation programs enthusiastically and consistently. The school stakeholders also continue to implement the newly-learned skills and knowledge as part of the school's activities. Because of this, SDN 12/I Terusan is now known to be the area's school that has been supporting its students to have healthy living habits. In 2015, defeating 201 other schools in the District, SDN 12/I Terusan won the Healthy School Competition for Batang Hari District.
"This achievement is possible because of the efforts of the teachers and community members, as well as the support from Tanoto Foundation. Because of the assistance from Tanoto Foundation, our school is now a strong contender when it comes to the healthy school competition," said Intizom, Principal of SDN 12/I Terusan.
As the winner of the district level competition, SDN 12/I Terusan will represent Batang Hari District in a similar competition at the provincial level. The school extends its appreciation for the support of Tanoto Foundation and hopes to perform well at the provincial and national level.