SDG Academy Indonesia Holds Leadership Program Graduation with Virtual Event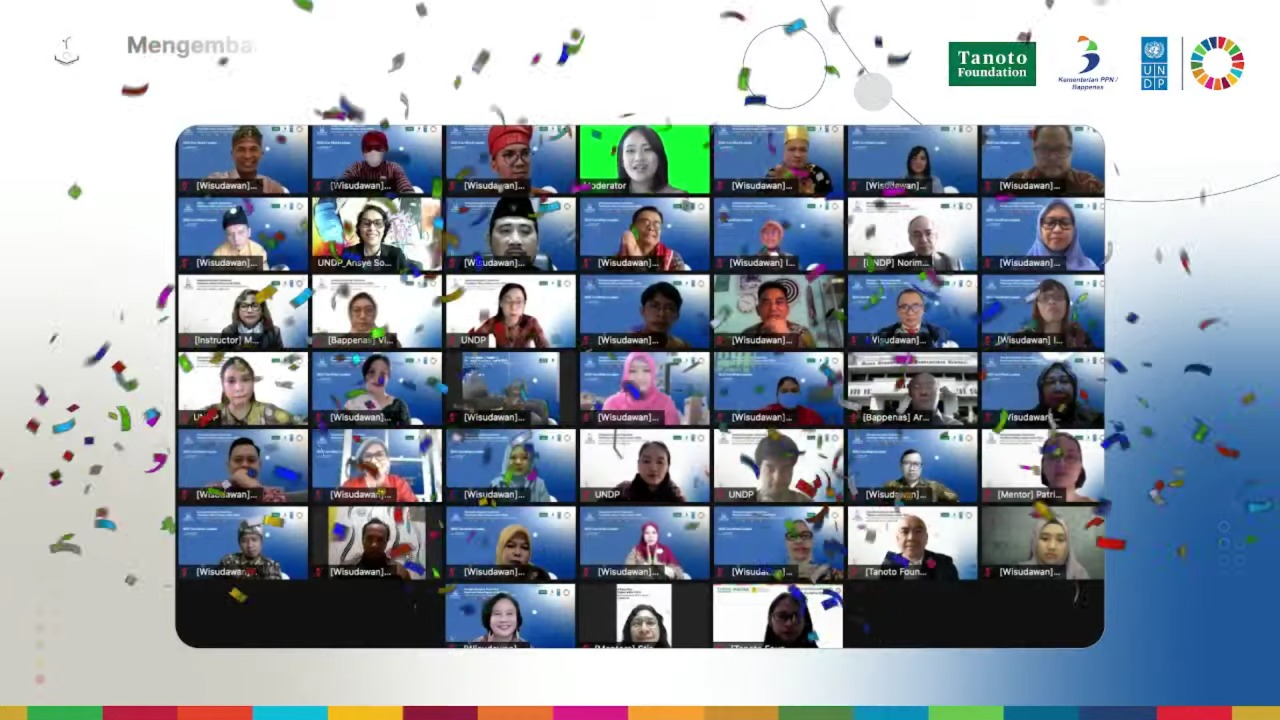 SDG Academy Indonesia celebrated the graduation of its 33 students through a virtual commencement on July 23, 2021. The graduates were the first batch of students of the SDG Leadership Program, a five-month course which aims to empower local leaders in various sectors in the achievement of Sustainable Development Goals (SDGs).
"Indonesia needs more agents of change for SDGs with creative and innovative solutions to solve the pressing issues that will contribute to the achievement of the SDGs," SDG Academy Indonesia's Director J. Ansye Sopacua said. "In addition, the involvement of all SDG stakeholders plays a crucial role."
A collaborative platform between the United Nations Development Programme (UNDP), the National Development Planning Agency (Bappenas), and the Tanoto Foundation, SDG Academy Indonesia targets all SDG stakeholders that include the government, academia, the private sector, philanthropy, civil society organizations and the media. It features three main programs: the SDG Leadership Certification Program, SDG Mobile Learning and SDG Study Abroad.
The 33 students enrolling in the SDG Leadership Program came from various backgrounds, including civil servants, professionals and academics. With blended learning online courses that featured topics such as governance, leadership and SDG specific issues, the program was completed with a colloquium where students presented projects on Poverty Alleviation and Improving the Quality of Education.
The students then received the title of "SDG Certified Leader", equipped with complex problem-solving skills and the knowledge of development within the SDG framework.
UNDP Indonesia Resident Representative Norimasa Shimomura stated his appreciation for the graduates. "If the SDGs are about leaving no one behind, through better targeting with stronger synergies and power of innovation, we need to redouble our effort to achieve the SDGs. We have nine years to work on it. This is where the leadership skills you have acquired at SDG Academy Indonesia becomes essential. It is important to continue to demonstrate such a leadership and commitment, and embrace responsibility in the years to come," he said.
Meanwhile, Deputy Minister for Maritime and Natural Resources Affairs at Ministry of National Development Planning (Bappenas) Arifin Rudiyanto expressed hope that SDG Academy Indonesia can involve more stakeholders in the program, allowing them to learn from each other, to contribute and produce innovations on SDGs.
The second batch of the SDG Leadership Program will begin in August 2021 with topics on Natural Resources Management and Violence Against Women and Children. Thirty-five participants will enroll in the program, selected out of 200 applicants.
Ansye Sopacua emphasized that SDG Academy Indonesia is committed to producing leaders who can accelerate the achievement of the SDGs.