Fostering the Entrepreneurial Spirit Through Tanoto Entrepreneurship Series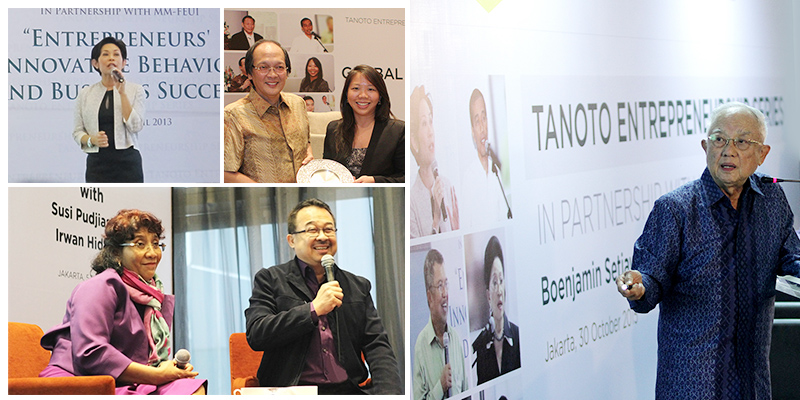 The March 2016 data released by the Global Entrepreneurship Monitor (GEM) shows that Indonesia has only around 1.65% entrepreneurs out of a total of 250 million populations.  This figure is still less than those of the neighboring countries, namely Singapore 7% and Malaysia 5%.
However, Indonesian people's interest in entrepreneurship is quite high.  In South East Asia, the interest in entrepreneurship of the Indonesian community is only less than the Philippines'.   This high interest is also supported by the adequate number of human resources that can venture into the business world.
"Indonesia has an extremely high number of young people.  This is a good capital for delivering new innovations in entrepreneurship.  I challenge the youths here in Indonesia to  become entrepreneurs and produce innovations in the near future," said dr. Boenjamin Setiawan, the founder of PT Kalbe Farma, during Tanoto Entrepreneurship Series recently.
Tanoto Entrepreneurship Series is a joint program between Tanoto Foundation and Master in Management program of the University of Indonesia's Faculty of Economy and Business.  The objective of this program is to foster entrepreneurship spirit in Indonesia, particularly amongst the students of the Program. The activity of Tanoto Entrepreneurship Series is to bring successful entrepreneurs to share their experiences so these young people can learn from them directly.
During a previous session of Tanoto Entrepreneurship Series, Joko Widodo, urged the young Indonesians to not be afraid of entrepreneurship. "Never hesitate to start a business and do not take such a long time to contemplate.  As an entrepreneur, we should be able to read market conditions.  We should know our own products well.  This is necessary for proper positioning and marketing of our products," said Joko Widodo, who was present in the 2013 Tanoto Entrepreneurship Series in his capacity as a furniture businessman from the City of Solo.
In starting a business, a large capital is not the main thing.  Many successful entrepreneurs started their businesses from zero, including Sukanto Tanoto.  In the 2016 Tanoto Entrepreneurship Series, Ibrahim Hasan, member of the Tanoto Foundation's Board of Governance stated that, "Sukanto Tanoto started his business in Belawan, North Sumatra, as a supplier.  Slowly, he built his business, the Royal Golden Eagle Group.  Presently, one of the main products of the Group's subsidiary company, PaperOne, is already marketed in more than 80 countries in the world."
(Read: Sukanto Tanoto's Profile)
Other successful business people who took part in Tanoto Entrepreneurship Series are among others the Minister of Maritime and Fishery, Susi Pudjiastuti, founder of Mustika Ratu Tbk, Mooryati Sudibyo; President Director of Blue Bird Group, Noni Purnomo, and President Director of GarudaFood Group, Sudhamek AWS.