Message From Our Founders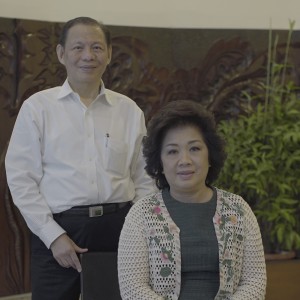 Dear Friends,
Education has been the focus of our attention for many years.  Although both of us did not complete our formal education, we did not let this experience stop us from learning. We continue to use every opportunity from every where to learn.
When we look around, many people still face the obstacle of having limited access to quality education.  More often than not, this situation is the result of poverty. They do not have the opportunity to empower themselves and break from the poverty chain.
We started our philanthropic activities in 1981 when we established a kindergartens and primary school in Besitang, North Sumatera. From that moment, our programs  rapidly evolved  into an integrated social development initiative. Originally, the schools were established to facilitate children's learning only. Over time, these schools became a place to empower parents to improve their livelihoods. These places also supported the whole community to improve the quality of life.  This was the seeds for the beginning of Tanoto Foundation.
As founders of Tanoto Foundation, we believe that every person should have the opportunity to realize his or her potential fully.
We believe that effective poverty reduction efforts require a holistic approach that includes education, empowerment, and enhancement of the quality of life. Therefore, Tanoto Foundation in cooperation with communities and other partners address the root causes of poverty. We focus our activities in rural areas, where poverty is most prevalent.
Although we realize that Tanoto Foundation has brought positive impact to the lives of thousands of beneficiaries, we remain committed to reaching and helping more community members in eradicating poverty.
Regards,
Sukanto Tanoto and Tinah Bingei Tanoto
WHAT THEY SAY
Tanoto Foundation assists us to easily and creatively recycled materials from our surrounding and reuse them for learning tools for the children.
Elvidawati, Principal of Sekolah Dasar 004 Bukit Agung, Pelalawan District, Riau. Partner of Tanoto Foundation in Pelita Pendidikan
My interest in research is fully supported by Tanoto Foundation. Through Tanoto Student Research Award, I can now be one step closer to reach my dream as a young researcher from Indonesia.
Muhammad Taufik Hidayat, Student of Engineering Physics, Institute of Technology Bandung
With the scholarship, I am able to continue my education. I am now equipped to understand the children better. As a result, the teaching and learning process has been improved.
Magdalena Sinaga, Tanoto Teacher Scholarship Recipient 2014
After receiving funding from Tanoto Foundation, I don't need to work until late anymore. I can focus on my study now.
Randy Rentanaka, Recipient of Tanoto Youth Scholarship, SMA Dr. Wahidin Soedirohusodo Medan
---
GALLERY