---
Tanoto Foundation was built upon the belief of the founders, Sukanto Tanoto aand Tinah Bingei Tanoto, that every human being deserves an equal right to obtain a better life. In doing so, they believe that the main pillar in getting a better life is through education,
Essentially, education cannot run on its own. It has to be supported by an empowerment that can unleash the maximum economic potentials of individuals, households, and communities. In turn, education and empowerment require the support of the surroundings, be it through infrastructures or social funds, in order for the people to be able to improve their quality of lives.
Therefore, based on the belief of the founders, and the desire to contribute to the country and the people of Indonesia, Tanoto Foundation is established to focus mainly on the sector of Education, Empowerment, and Enhancement of Quality of Lives.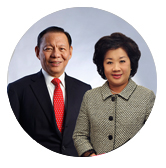 " Everyone should get a chance to realize their full potential . "
–Sukanto Tanoto and Tinah Bingei Tanoto–
---

Tanoto Foundation was founded with the vision of being an institution that improve lives through education, empowerment and improved quality of life. Tanoto Foundation has done many things since 1981. In education, the Tanoto Foundation and their employer partners that RGE Group has developed schools in Indonesia.
In addition, public schools also have received assistance, along with the development in the learning process of the teachers and their students. In the field of empowerment, Tanoto Foundation has provided sustainable employment and other economic activities that can support its members. Improving the quality of life has been done by developing water sources and health facilities were adequate for thousands of people in the interior of Sumatra. We are aware that improving the standard of living is a task for all of us.
That is why we want to share our experiences so that others can learn from what we've done and other challenges that must be faced. We hope we can inspire that more can join in the fight against global poverty.
WHAT THEY SAY
Tanoto Foundation assists us to easily and creatively recycled materials from our surrounding and reuse them for learning tools for the children.
Elvidawati, Principal of Sekolah Dasar 004 Bukit Agung, Pelalawan District, Riau. Partner of Tanoto Foundation in Pelita Pendidikan
My interest in research is fully supported by Tanoto Foundation. Through Tanoto Student Research Award, I can now be one step closer to reach my dream as a young researcher from Indonesia.
Muhammad Taufik Hidayat, Student of Engineering Physics, Institute of Technology Bandung
With the scholarship, I am able to continue my education. I am now equipped to understand the children better. As a result, the teaching and learning process has been improved.
Magdalena Sinaga, Tanoto Teacher Scholarship Recipient 2014
After receiving funding from Tanoto Foundation, I don't need to work until late anymore. I can focus on my study now.
Randy Rentanaka, Recipient of Tanoto Youth Scholarship, SMA Dr. Wahidin Soedirohusodo Medan
---
GALLERY